The Incidentals Issue #05 Monsters
The Longest Halloween
1 year ago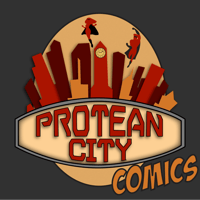 Episode Notes
On the cover, we see the front entrance of Patricia Arden High School. On the ground by the main doors are a series of pumpkins each with a unique face carved into them. The five right in the center are each clearly the carved faces of our young heroes screaming in terror.
The back cover reads - It has been Halloween for over 30 days. Two of the Incidentals spend some time away from the group but maybe bite off more than they can chew when they intercept a strange FLEX signal.
Introduction voiced by Peter DeGiglio All music was composed by Jim Malloy Masks: A New Generation is a game by Brendan Conway and published by Magpie Games
This podcast is created thanks to the financial support of backers on Patreon Join us at in our Discord or follow us on twitter @ProteanCity
Subscribe to Protean City Comics on iTunes or anywhere podcasts are found.
Check out our website at ProteanCity.com
Join us next Wednesday to find out what thrilling adventures lie ahead!
Find out more at https://protean-city-comics.pinecast.co