13th Street Wardens Issue #5 Not Fun Anymore
1 year ago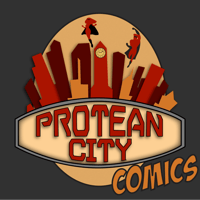 Episode Notes
Content Warning: Mature content, Murder Gore, Vomit, Eye stuff, Spiders, Blood
On the cover, is a hallway in the Radcliff Hotel. The hallway is filled with mirrors - hung on the wall, leaning against a door, or fallen to the ground. Each reflects a different horrible way to die. At the far end of the hall the last mirror reflects the pale scared faces of the Wardens standing in the elevator looking out.
Introduction voiced by Peter DeGiglio All music was composed by Jim Malloy Masks: A New Generation is a game by Brendan Conway and published by Magpie Games
This podcast is created thanks to the financial support of backers on Patreon Join us at in our Discord or follow us on twitter @ProteanCity
Subscribe to Protean City Comics on iTunes or anywhere podcasts are found.
Check out our website at ProteanCity.com
Join us next Wednesday to find out what thrilling adventures lie ahead!
Find out more at https://protean-city-comics.pinecast.co